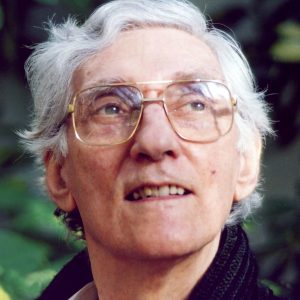 From the early 1970s, Sangharakshita was central to the landscape of my Dharma life, as friend and spiritual guide. I am deeply grateful for his friendship and unfailing kindness to me for over 40 years. I was his secretary for 6 years, and I learned a great deal from his example – including his mindfulness, clarity of thought, and his incredible work-rate for the Dharma. Through his teaching in the 1970s and '80s I received a very clear and practical grounding in the Dharma, which has been a formative  influence on my life and practice. Until well into his nineties, he continued to unfold a vision of how Buddhism can flower in the West, a vision which I do my best to serve.
He was an Englishman who spent many years in India as a Buddhist monk. He returned to the UK in the mid-1960s, and founded the Triratna Buddhist Order that I joined in 1974, which now numbers over 2,000 people around the world. I'm also grateful to him for that, because by starting the Order he linked me to a wonderful network of Dharma friends – from whom I have learnt a great deal – as well as a supportive context in which to practise and teach.
 Sangharakshita passed away in 2018.