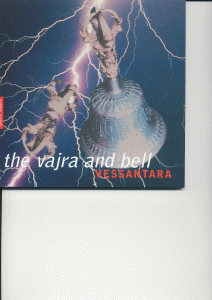 Windhorse Publications, Birmingham 2001.
Paperback, 78 pages, 8 colour plates.
ISBN:9781899579419.
Price: UK £6.99, USA $13.95.  DRM-free ebook: £3.99.
The vajra and bell are central symbols of Tibetan Buddhism and its ritual. The vajra has all the qualities of both the diamond and the thunderbolt, and stands for compassionate activity. The bell incorporates a whole mandala, and is a symbol of wisdom. Bringing the two togetheer adds further levels of meaning, and points to our potential to develop states of mind in which wisdom and compassion, bliss and emptiness, are combined in one extraordinary experience. (The book is part of Windhorse Publications' series on Buddhist symbols.)
Buy The Vajra and Bell.