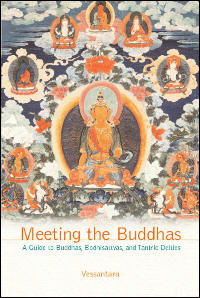 Windhorse Publications, Birmingham UK, 2003.
Paperback 356 pages., 27 colour plates and 36 line drawings.
ISBN: 978-1899579563.
My first book, written over a 5-year period before its final publication in 1993 – and still selling well all these years later! However, these days you have a choice. You can buy the whole thing in hardback as above (which is my favourite), or it has now been divided up into three paperback Guides, which you can buy separately:
A Guide to the Deities of the Tantra
Between them, these three volumes cover all the main figures that are meditated on in the Indo-Tibetan Buddhist tradition. I aimed to give information about the figures but, even more important, a real 'feel' for them and the magical world into which meditation on them can lead. All these different figures embody enlightened qualities: wisdom, compassion, peace and so on. By meditating on them you can activate those qualities within yourself.
There are also German and Dutch translations available.