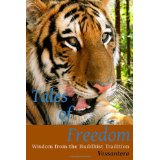 Tales of Freedom: Wisdom from the Buddhist Tradition.
Worlds Within, Cambridge UK, 2011.
Paperback 206 pages.
ISBN:  978-0956858702
UK: £12.05, USA: $17.29.         Amazon Kindle edition: UK: £7.20, USA: $11.16.
Everyone loves a good story. Here are 9 of them from the treasure trove of the Buddhist tradition, plus one cautionary tale from the West…
Each story contains a nugget of freedom, something we can learn that will make our lives more fulfilling. The book has been used in courses at Buddhist centres asan accessible way of exploring the Dharma. Personally I think it's worth buying just for the tiger on the front cover!